Athletic Therapy in Winnipeg
Arora Family Chiropractic is proud to provide patients with quality, effective athletic therapy. Our Certified Athletic Therapists specialize in treating muscle, bone, ligament, and joint injuries caused by sports endeavors, workplace strain, motor vehicle accidents, and more. No matter your pain, we are here to offer you a solution that is right for you.
Benefits of Care
Unlike other methods of rehabilitation, athletic therapy focuses on conditions that present themselves through active lifestyles. By focusing on the muscles, bones, and joints, we are able to assess injury and use various manual therapies, modalities, and exercise prescriptions to meet our patients' unique needs. Adhering to the Sports Medicine Model of care, the Arora Family Chiropractic professionals use their extensive training and knowledge to cater specifically to sports-related injuries.
We Can Help YOU
Not a competitive athlete? No problem! While our patients do live more active lifestyles, we also work with those who participate in casual athletics as well as non-athletes, such manual labor workers and those who have undergone physical trauma in car accidents.
From the general population to large sports teams, the athletic therapists at Arora Family Chiropractic are ready to treat you and help you return to your daily activities.
New Patient Process
Your first appointment will be about one hour in length and will include your initial assessment and treatment. At this time, we will discuss your history and current health concerns, and once we get an idea of what is going on, we will perform a treatment that satisfies your immediate needs. All following visits will consist of a brief reassessment, if necessary, with a central focus on treatment. Our one-on-one treatments are carefully executed within a 45-minute time frame.
Techniques
Our athletic therapy professionals are dedicated to caring for acute and chronic conditions alike. Utilizing several different techniques, including massage, strength and flexibility training, myofascial cupping, cryotherapy, thermotherapy, and electrical stimulation, we aim to alleviate your discomfort by encouraging quicker recovery time and decreased changes of recurring injury.
Two of our most popular techniques are acupuncture and myofascial cupping. While acupuncture seeks to restore energy flow to the various organs, glands, and tissues of the body through strategically-placed, thin needs, cupping uses plastic suction cups to bring blood to problem areas, allowing new blood to heal damaged tissue. Contrary to popular belief, both techniques are relatively gentle and can be tailored to the patient's comfort level.
Are you ready?
Now is the time to join the Arora Family Chiropractic athletic therapy team and start feeling better. Your health is our priority and effective, efficient care is our mission. Contact our office today to learn more about our Certified Athletic Therapists and the relief they offer on a daily basis. Regardless of your age of competition caliber, our care can make a world of difference.
Mar 10 · Written By Ashley Burr
When to take your Child to an Athletic Therapist
What does an Athletic Therapist do?
An Athletic Therapist works with muscles, bones, and joints. So if you have muscles, bones, and joints you are our kind of human! Not specific enough? Every therapist has their own experiences, background, and expertise. Athletic Therapists are known for working with sports injuries but as I like to tell my clients if you roll your ankle playing soccer the injury and the rehab is not much different than if you roll your ankle stepping off the curb! The only difference? The exercises that are chosen to get you back to doing what you love.
If you're a soccer player, your rehab should involve a soccer ball and movements that look like the thing you want to do.
If you just want to get back to being able to go for a walk, then your exercises should reflect that.
For more information on what Athletic Therapy is, please click here
Now that we have covered the base of What does an Athletic Therapist do? Let's move on to more specific information on when to take your child to see an Athletic Therapist.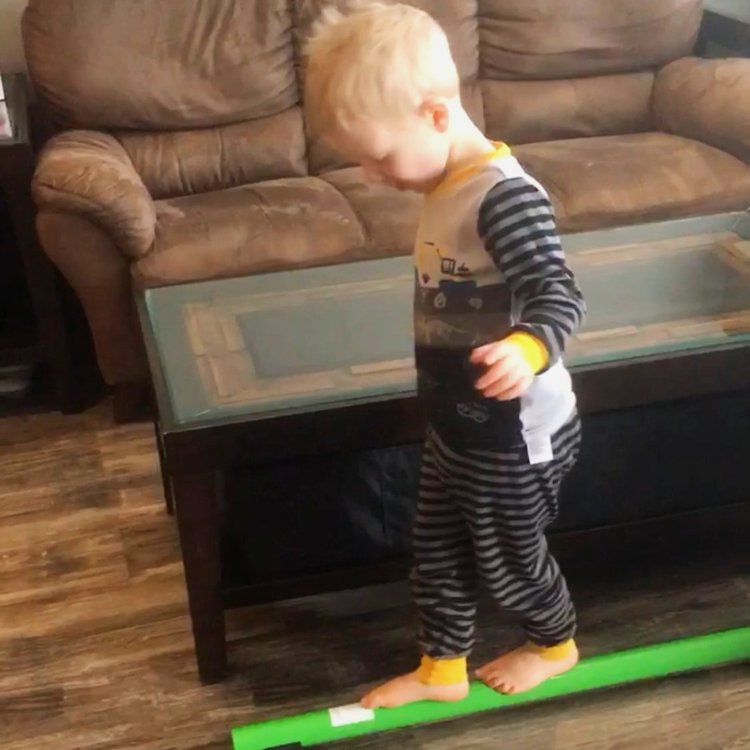 It could be a good time to take your child to an Athletic Therapist if:
Your child is complaining about pain from an injury.
Your child has pain and you don't know why.
Your child is complaining about pain during or after activity.
Your child is having difficulty with a sport or a specific movement in a sport.
Your child wants sport-specific training to improve in a sport.