We are located in the heart of Lindenwoods, with easy access to our clinic off of Waverley street.
We believe in helping you improve your physical, mental, and emotional health. Our services include chiropractic, physiotherapy, athletic therapy, massage therapy, mindfulness/meditation coaching, spinal decompression, shockwave therapy, psychotherapy, and more.  We feel that if we can help you, we will.  But for any reason if we cannot, we will refer you out or advise who may be able to help.  We will always be upfront with you.
With that being said, with our complete team of practitioners, we feel we can help with almost any condition related to your pain.
We strive to meet everyone's individual needs and will always do what is best for you.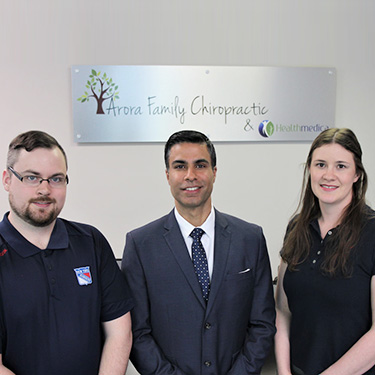 Discover Your Body's Healing Ability
Chiropractic can help your body function at its optimum potential by addressing the spine and nervous system.
We have had many success stories over the years. Dr. Arora and Dr. Cook have seen patients who have suffered from migraines for many years and have found relief with just a few visits. Others have had back problems for decades and have seen them resolved. We have helped many with anxiety, poor sleep, and energy levels. The premise of chiropractic care is simple. We enhance your body's natural function and healing abilities by correcting the misalignments (subluxations) in your spine. Once this happens, the nervous system functions better and your body starts fixing its problems. The best medicine cabinet is inside of us!