After practicing for nearly 10 years in the Greater Toronto Area, Dr. Arora returned back to Winnipeg, the city he grew up in. He initially opened our current clinic under the Healthmedica brand with a focus on a variety of treatments including chiropractic care, athletic therapy, spinal decompression, shockwave therapy, custom orthotics, and medi-spa services such as laser hair removal, and skin care treatments.
At our clinic, now known as Arora Family Chiropractic, we believe in helping you feel better physically, mentally, emotionally, and spiritually through natural means. Our facility is a 1600 sq ft clinic and we have ten staff members including a physiotherapist, two athletic therapists, massage therapy, a mindfulness/meditation coach, a registered dietician, four receptionist/assistants, and of course, Dr. Arora. We are located in the heart of Lindenwoods, with easy access to our clinic off of Waverley street. We strive to meet everyone's individual needs and respect your decisions when it comes to what's best for you.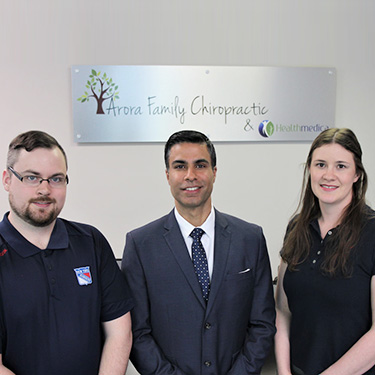 Skin Treatments Offered
If you're seeking to rejuvenate your appearance, remove unwanted hair or feel refreshed from a chemical peel or facial, Arora Family Chiropractic can assist you. The medispa treatments we offer include:
⦿ Chemical peels
⦿ Facials
⦿ Laser hair removal
⦿ Microdermabrasion
⦿ Skin care products
⦿ Skin rejuvenation
⦿ Skin tightening
Discover Body Wellness
Chiropractic can help your body function at its optimum potential by addressing the spine and nervous system.
We have had many success stories over the years. Dr. Arora has seen patients who have suffered from migraines for many years and have found relief with just a few visits. Others have had back problems for decades and have seen them resolved. We have helped many with anxiety and depression. The premise of care is simple. We enhance your body's natural function and healing abilities by correcting the misalignments (subluxations) in your spine. Once this happens, the nervous system functions better and your body starts fixing its problems. The best medicine cabinet is inside of us!